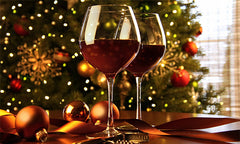 Christmas is near, and one challenge over the holiday season is having wine on hand that everyone will enjoy. While it's not always possible to please everyone, here is a checklist of four basic categories that will satisfy most of your house guests this season. 
A versatile red wine.
In our experience with clients at the shop, dry red wine drinkers generally enjoy most dry red wine styles. Therefore, you can often get away with serving only one variety of red wine. That red wine should be smooth enough to be approachable and drink well without food, and full-flavoured enough to stand up to common Christmas fare like cranberries, turkey and cookies.
Consider medium-bodied, fruit-forward styles like Merlot, Pinot Noir, Syrah, and Tempranillo. Generally speaking, wines from California, Chile and Spain are approachable to a wide audience.
A crisp, dry white wine.
Dry whites are an excellent pairing to typical Christmas foods. Turkey, stuffing, mashed potatoes, and apple pie all pair well with a dry white wine that has some acidity. This includes many varietals that your guests will recognize, like dry Riesling, Pinot Grigio, or Chardonnay (unoaked or lightly oaked).
A white wine with some sweetness.
Sweeter white wines are a hugely popular category, and you'll need to offer at least one to appeal to those who prefer a touch of sweetness. They don't have to be extremely sweet either. Off-dry describes wines with a small amount of sweetness, often just enough to soften the acidity that some people perceive as sour or tart. Popular off-dry wines include some German Rieslings, Muscat, and off-dry Viognier.
A low-alcohol option.
Often during the Christmas season, we like to sit around, catch up with loved ones and just chat. With a glass of wine in our hands. For hours! So it can be nice to have a lower-alcohol wine available for people who want to drink all afternoon without falling asleep on your couch. Wine coolers and other sweet wines like Moscato are great for this. Rosés can also be lighter in alcohol, but check the label to make sure.
You can also get creative! Make your own mulled wine, sangrias, spritzers or wine cocktails to have control over the alcohol content and try a new drink.